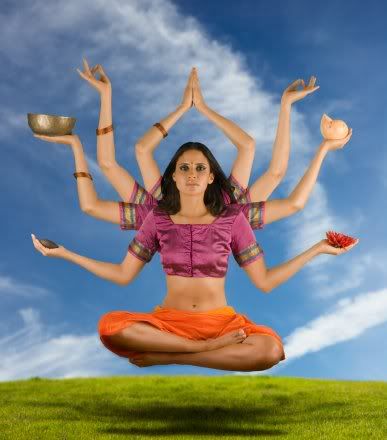 Tomorrow Never Knows y los
estados alterados de conciencia
Siempre me he preguntado que tiene de especial
Tomorrow Never Knows
y porqué cuando la escucho repetidas veces y con cierto grado de concentración logra relajarme y aliviar mis tensiones.
Un amigo de la familia, siquiatra él, me ha explicado el porqué de mi afición a escuchar esa canción:
"La Música adecuada toca las cuerdas de un instrumento que es nuestro cerebro, provocando experiencias de integración personal (músicas nueva era, clásica, religiosa) o de disolución, e identificación con la tribu o pueblo (ritmos étnicos, música de discoteca). Todas cumplen su función, ya que tienen la capacidad de variar el estado de conciencia y por tanto de penetrar al "otro lado""
Hasta aquí muy bien, se que la música caribeña como la salsa provoca en mi una euforia y unos deseos incontrolables de mover el cuerpo al ritmo del tumbao.¿Pero qué hay de
Tomorrow Never Knows
? ¿Porqué me provoca exactamente lo contrario?
El mismo psiquiatra me lo explica:
"Ya te mencioné que la música modificaba el comportamiento personal, todos lo hemos comprobado: desde una música que nos hace saltar los nervios hasta otra que nos transporta a parajes escondidos en nuestro interior. Siempre se ha utilizado esa cualidad del sonido para estimular de diferentes maneras la conducta y se ha usado por todos los pueblos de nuestro planeta: desde los ritmos acelerados para forzar el trance de los pueblos africanos, americanos, etc. (Ritmos Beta), hasta las ragas pausadas de la música Hindú (Ritmos Alfa.). O para cosas más practicas como la música militar: para distraer momentáneamente la decisión individual.

Se sabe que el cerebro tiende a seguir los estímulos rítmicos y que se sintoniza con ellos. Por lo tanto si hacemos que una persona oiga un ritmo de frecuencia 10 Hertz. y vea una luz parpadeando y sincronizada con la misma frecuencia, conseguiremos en relativo poco tiempo un estado de relajación inducido artificialmente, clasificado dentro de los estados Alfa."
Tomorrow Never Knows
es en si misma un alucine total.
Escrita por Lennon bajo el efecto de drogas alucinógenas es un monumento al "viaje"
"...apaga tu mente, relájate y flota bajo la corriente..."
. La inclusión de sonidos raros, como guitarras que se escuchan al revés, la voz de John modificada a través de un megáfono y el ritmo cuasi raga hacen de esta composición algo sui géneris, que si se escucha bajo las condiciones apropiadas: poca luz, una posición cómoda, temperatura ambiental adecuada, sonido estéreo envolvente y disposición para experimentar
("...esto no es morir..." )
genera precisamente en el cerebro un estado Alfa: desde 7,5 Hertz. (vibraciones por segundo) hasta 13 y corresponde a estados de tranquilidad, relajación, meditación.
Bien, ahora ya entiendo porque mi rola favorita de
The Beatles
es
Tomorrow Never Knows
. ¿Qué mas puedo añadir? Que seguiré dejando en segundo plano mis pensamientos y me rendiré al vació... finalmente no es morir y quizá pueda descubrir el significado en mi interior.
-------------------------------------------------------------------------------------------------
Tomorrow Never Knows and altered states of mind

I always wondered why
Tomorrow Never Knows
is so special to me, and why I listen to the song repeated times. With certain degree of concentration, I can reach complete relaxation and feel my stress fading away.
A friend of the family, a psychiatrist, has explained to me the reason of my addiction to the song.
"The the chords of our favourite music use our brain as an instrument, causing experiences of personal integration , dissolution or identification with the tribe or town.

All rhythms work this way, since they have the capacity to vary the conscious state, and therefore, to penetrate the "other side".
I understand this, as Caribbean music, the Cha-Cha, unleash in me an uncontrollable euphoria, and desires to move the body to the rhythm of tumbao.
But, why does
Tomorrow Never Knows
cause exact opposite in me?
The psychiatrist explains the reason:
"I told you how the music modifies the personal behavior, we have all witnessed it: music helps us to relax and reduce our inhibitions, and transports to us to places hidden in our interior.

Sound has been always used to stimulate our conduct in different ways, and it has been used by people all over the world: from the accelerated rhythms, to force the psychological trance of the African, American Indians, etc. (Beta rhythm), to the slowed down ragas of Hindu music (Alpha rhythm) or for military music in order to distract the individual decision and invoke bravery.

We know that the brain tends to follow the rhythmical stimuli and that it is tuned with them. So, if we force a person to listen to a rhythm on a frequency of 10 Hertz and the person sees a blinking and synchronous light with the same frequency, it is possible to obtain, just in a short time, an artificially induced state of relaxation classified as Alpha State"

Tomorrow Never Knows is a totally "groovy turn on" . Written by Lennon, influenced by his reading of the book "Tibetan Book Of The Dead" and LSD experiences, it is a monument to the "psychedelic trip": "… turn off your mind, relax and float down stream…" .
It includes unusual sounds like highly compressed drums, reverse guitar, processed vocals, looped tape effects, a sitar and a tamboura drone.
John's voice is modified through a Leslie speaker and the quasi raga rhythm does something bizarre, that is, if it is listened under the appropriate conditions: little light, a comfortable position, suitable environmental temperature, stereo surround sound and a lot of disposition to experience ("…it is not dying …" ) it indeed generates in the brain an Alpha State (from 7.5 to 13 Hertz.) and it corresponds to states of tranquillity, relaxation and meditation.
Well, now I understand why my favorite Beatles tune is Tomorrow Never Knows. What more can I say? So I will continue to lay down all thought and I will surrender to the void too … it is not dying, and perhaps i can see the meaning of within.